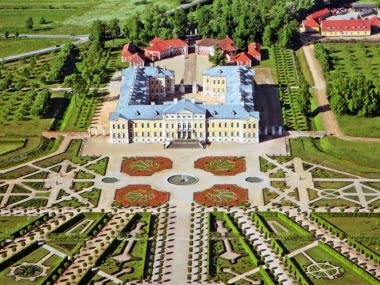 Rundale Palace is a baroque palace complex in Latvia. It is located 12 km northwest of the town of Bauska in the village of Pilsrundale. Rundale Palace was built according to the design of F.B. Rastrelli as the summer residence of the Duke of Courland Biron.
The first stone was laid on May 24, 1736. In 1740, Biron was arrested and exiled; he returned to Courland only in 1763. Then, by 1768, Rastrelli completed the interior decoration.
The palace ensemble consists of the palace building with stables and other outbuildings, to which from the south there is a 10-hectare French garden, closed by a canal on all sides, and a hunting park (34 hectares) stretches behind it. 138 rooms are located on two floors of the palace en suite. The south side of the central building is occupied by the duke's ceremonial apartments, on the north side are his personal living rooms. In the eastern building there are ceremonial halls – the Golden, the former Throne Hall and the White Hall, once the Dance Hall, connected by the Grand Gallery. It is noteworthy that in the brickwork of the palace, Rastrelli used a brick of unusually large sizes, which was produced at a nearby factory. A number of these bricks were transported to St. Petersburg and used in the construction of Strelna Palace.
Rundale Palace after Biron:
After the accession of Courland to the Russian Empire in 1795, the palace was granted the favorite of the Empress Zubov. After the death of the latter, his young widow Fyokla Valentinovna married Count Andrei Shuvalov. The palace was the property of the Shuvalov princes until 1920, when, as a result of agrarian reform in the Republic of Latvia, the counts of Shuvalov lost their rights to the Rundale estate.
The Rundale Palace was damaged during the Russian war with Napoleon in 1812, but it found itself in especially poor condition in 1919 when it was defeated by the soldiers of the adventurer Bermont-Avalov. In 1933, the palace was transferred to the State Historical Museum, which began the restoration of the palace complex. After World War II, there was a grain warehouse in the halls, and the building itself, inhabited by residents, was in a deplorable state. In 1972, restoration work began, which continues to this day.
Currently, Rundale Palace is one of the most famous sights of Latvia. Rundale Palace and its adjoining garden are a museum. The palace is also used to receive high-ranking foreign guests by the President of Latvia.